About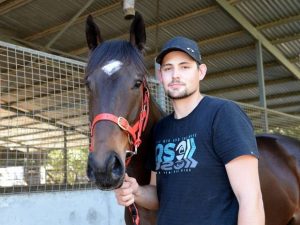 Jared Wehlow is one of the rising stars in the training ranks of Queensland, quickly establishing a record that has to be admired at such a young age. Born to Greg Wehlow, he has always been surrounded in the racing industry and this has laid a solid platform for him to work with as he gains his experience. The Gold Coast was home growing up and at 15 he was given the opportunity to work as a stable hand where he worked for respected trainers Toby Edmonds and Darryl Hanson.
Jared learnt quickly how these large stables operated and what was expected of a trainer in this competitive business. With hard work and dedication the winners have come thick and fast in a short time. His attention to detail and willingness to travel has meant that the horses are always placed at the right time and the right place.
Jared's highlight to date is winning 2 Gladstone Cups with the evergreen Teddy Bare who at 11 years of age,, got the black and red colours of the stable home.
Jared is always looking for more challenges and with his work ethic, you can be assured that your pride and joy is the priority at all times.